Loosely speaking, Harrow includes the suburbs of Harrow, North Harrow, West Harrow, South Harrow, Pinner, Rayners Lane, Hatch End and Wealdstone (don't ask what happened to East Harrow, it's called Kenton and half of it is in Brent). The local boundaries are pretty woolly, so as I live near West Harrow station, I guess I must live in West Harrow!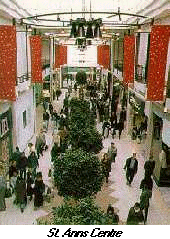 Harrow town centre has been gutted and rebuilt over the last few years, and is now blessed with one of the most idiotic and impenetrable one way street systems in the country and two malls complete with the usual very boring shops. All the character that was Harrow went when they pulled down the old, interesting shops and replaced them with office blocks - it now looks and feels like a thousand other places - no soul. Don't bother coming here, you could be anywhere.
Now there's a new town centre plan which says, "Let's rip up the bits we didn't touch last time, and this time fill the space with thousands of flats that no-one wants and can't afford anyway.". Lunacy! Thanks to the first round, there's no useful shops where you can buy the things you need to live on - like food, and there's no schools. Who'd want to live in these flats, I don't know. The basic infrastructure's gone.
If the worst happens, and you're here, at least Harrow is reasonably served by public transport with fairly good bus services and fast train services into London on the Underground (subway) and even faster main line trains for those who live in the north of the borough. Mind you, if you ever get to the bus station, you might take a few minutes to study the road layout, and ponder what the guy who designed it was smoking at the time. Worse, the council can't stop messing with it. Traffic improvements or some such. What they mean is they made such a God awful mess 20 years ago that they're still trying to sort it out.
One of the places that hasn't been modernised - yet, is the 900 year old St Mary's Church on The Hill. In fact Harrow Hill and
the open areas around it along with Harrow School are well worth a visit, but you need a 6 figure annual income to live there. Harrow Hill is usually assumed to be the highest point in Harrow, it isn't - that honour is reserved for an area known locally as Old Redding, which is a few metres higher. Old Redding is an area of open land and woods to the extreme north of the borough. Trivia fact about Old Redding - draw a line due east from Old Redding and there's nothing higher until you hit the Urals in Russia!
Probably the largest single employer in Harrow used to be the Yellow Box Company, otherwise known as Kodak, no longer true, but there's plenty of smaller businesses in the area. If you want a nice local hum-drum office job Harrow's just the place to be, that is, of course, if they manage to let the acres of new but empty office space around the town centre and actually start employing people in the area.
If you want to know more about Harrow, the Knowhere Guide is distinctly unbiassed and informative, particularly the bit about Northwick Park Hospital, mind you the hospital has gone down hill since that was written. The place with all the official links to Harrow sites is the Council website.

Page updated: 30/09/08.